My wife, who's an accomplished cook and baker, scribbled out a simple recipe to help me make pancakes.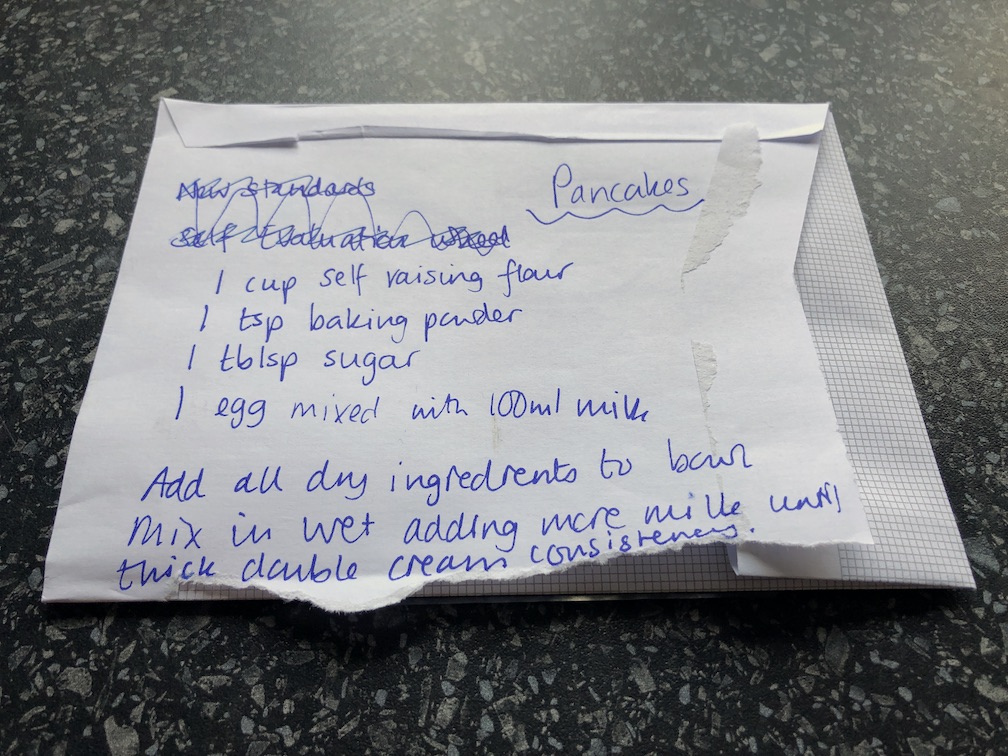 I took that simple instruction and had fun turning it into this monster.
Ingredients
This makes four or five small pancakes.
1 cup self raising flour
1.5 tblsp sugar
1 egg
125ml milk
1 tsp baking powder
0.5 tsp citric acid (optional)
30ml (approx) hot water
Equipment
Large mixing bowl
Measuring jug
Small bowl
Large frying pan
Vegetable oil
Whisk
Spatula (turner)
Ladle
Oil brush
Cooling rack
Measures:

1 cup (237ml)
1 tblsp
1 tsp
0.5 tsp
Instructions
Boil the kettle.
Put the frying pan on a medium heat.
Add some vegetable oil to the pan.
In the large mixing bowl, mix flour and baking powder.
In the measuring jug, whisk together the egg and the milk.
In the small bowl, mix the hot water, sugar and citric acid until dissolved.
Pour the egg and milk into the large mixing bowl.
Combine them with the flour and baking powder.
Do not over-mix.
Add the water, sugar and citric acid mix to the large mixing bowl and combine.
Consistency should be like thick double cream.
Do not over mix.
Cooking stage
Use the oil brush to distribute the oil evenly in the pan.
Pour one ladle-full of mixture into the centre of the pan.
Flip the pancake using the spatula as soon as the bottom is solid. (This prevents the bubbles escaping from the top and makes the pancakes nice and puffy.)
Cook until light brown.
Flip if needed to finish off the first side.
Place on the cooling rack.
Add more oil to the pan if needed.
Repeat cooking stage until large mixing bowl is empty 😋